St. John's Church
West Meon Church is very grateful to Alex Echo who has most generously donated one of his paintings to raise funds for the church. It is entitled the Energy of Spring and will be sold by auction by Rosebery's in London at their Impressionist and Modern Art sale on July 15th. It will be possible to bid online or by telephone, whether attendance in person is allowed by that date or not. The catalogue which is online at https://auctions.roseberys.co.uk/m/view-auctions/catalog/id/515 and shows Alex's picture as lot 84 gives the measurements and other details.
The PCC would like to thank Jim Ulph for his professional advice as well.
Any queries to Louise Clay, PCC Secretary 829235.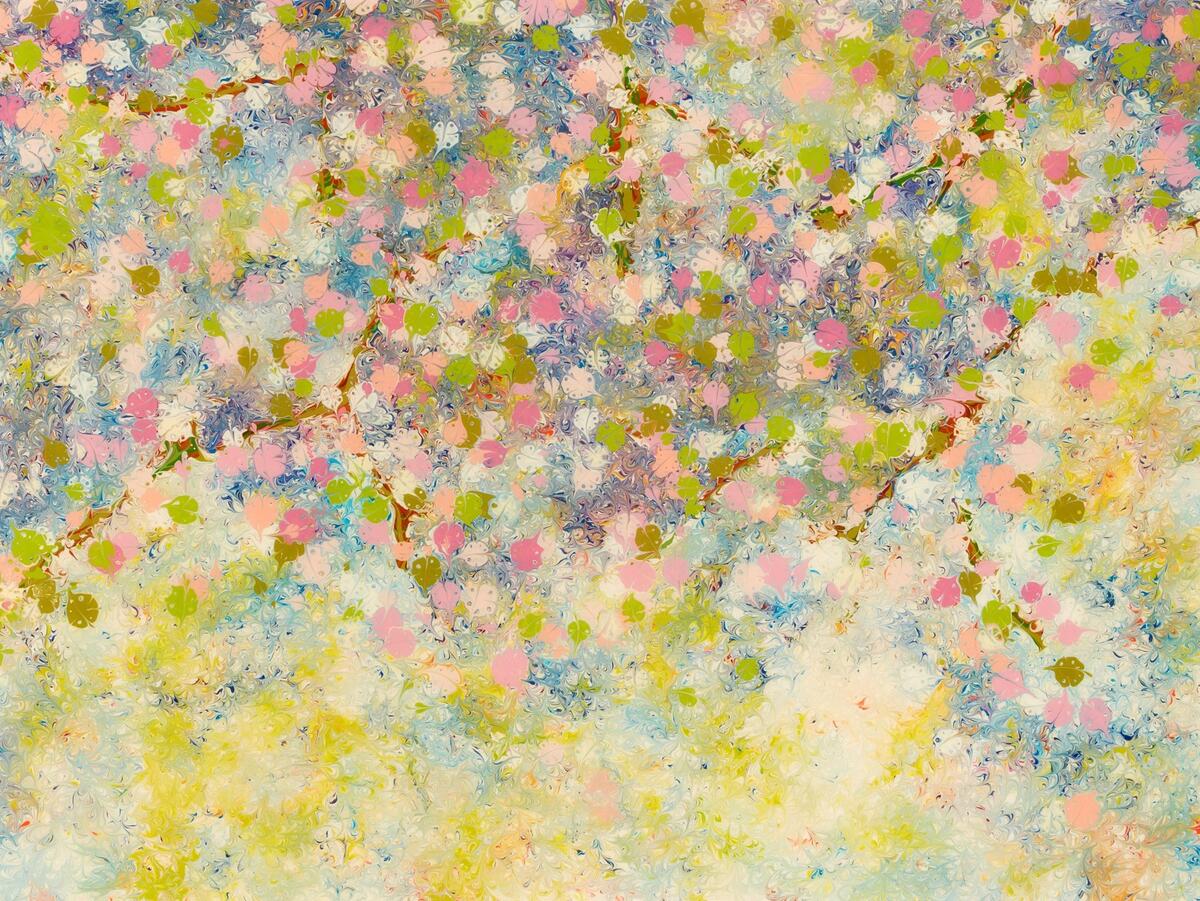 The Church of St. John the Evangelist, West Meon is a surprisingly large building for the village that it serves. Built in the mid-19th Century, it replaced an earlier Saxon church. The record attendance at a service is, apparently, six hundred, although the average size of congregations today is rather smaller. However, the church is well used for concerts, annual music and book festivals, and the bi-annual Christmas Tree Festival.
Services at West Meon vary from a quiet early-morning said service of Holy Communion according to the Book of Common Prayer to the lively and informal All Age Service on the First Sunday of the month.
We are blessed to have excellent relations with the neighbouring West Meon Primary School; the children are frequent visitors to the church, and the Rector is a governor and takes fortnightly assemblies at the school.
There are no other places of public worship in the villages, and we are mindful of the variety of backgrounds of those who attend the services. The Churches welcome all to attend, and communicants from other traditions are welcome to receive communion.
Further information regarding St John's can be found at: www.petersfielddeanery.org.uk/parishes-in-the-deanery/westmeonandwarnford/welcome.php
West Meon and Warnford churches have adopted the House of Bishops policy on Safeguarding 'Promoting a Safer Church' in accordance with current Church of England practice. The Safeguarding Officer for West Meon is Mrs Julie Kelly to be contacted on j.kelly@westmeon.hants.sch.uk and for Warnford please contact Churchwarden Andrew Sellick on 01730 829161.
St John's The Evangelist Church